What is UKULELE AFTERNOON ?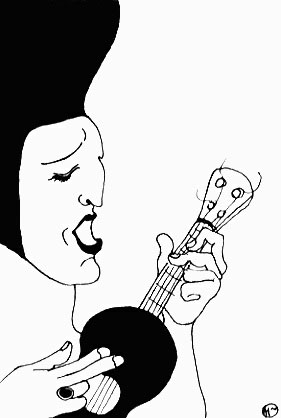 UKULELE AFTERNOON
is a musical ensemble group of
ukulele (originally a Hawaiian string instrument)
organized by the amateur players in Tokyo, Japan.
UA
plays the music in the original arrangement of non-Hawaiian style,
the songs from Latin, Jazz, Bossa, Rock, Punk, Chanson, Reggae,
well-known Popular Standards, all round of music in the world.
The personnel under
UA
is always changeable.
During the 24 years of activity,
more than 300 peoples have been joined.
The number of the members are irregular on each performances.
Mostly with 10 to 25 members on the live stages.
Sometimes with 80 members gathered on the street, sudden "guerilla" performances.
Anybody of the ukulele possessors are able to participate
in
UA
's free-rehearsals, being held 1-2 times on every month.
No asks whether the ukulele can be played well.
Neither how long it has been played.
Many people may think that the musical instruments are difficult to play,
when it must be started by learning how to and play what.
UA
propose that anyone can start for ukulele by themselves easily,
and enjoy playing any kind of songs in own favor.
ENGLISH PAGE INDEX
|
HOME

ABOUT UA
|
HISTORY
|
MP3
|
SCHEDULE
|
GUEST BOOK