Within the wide tendency of ukulele in boom, UA produced the first big concert since from their re-start. On Jun.27 at CAY in Aoyama, "Welcome Back to Ukulele Cafe NITE 1999" was held.

The performers were amateurs/professionals who might strongly appeal to the new generation of uku-lovers.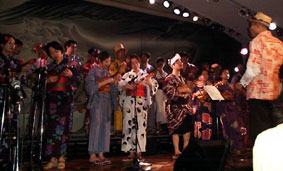 On the stage with Purin (girls duo with uku and singing the original songs), Ukulele Club (uku & guitar jazzy duo feat. Mikihiko Matsumiya), Ukulele Cafe Quartet (reunion), ukuleleman iwao (famous star player of the young) Yuki ALANI Yamauchi (pioneer of Hawaiian music in Japan), 25 members of UA appeared in the costume of Japanese traditional summer-kimono.

They played The Ventures' "Pipeline", French chanson "Paris Canaille", Japanese techno pioneer YMO's hit tune "Kimi Ni Mune Kyun", theme from the TV shows "Shouten" and "Lupin The Third", and other UA's classics "Waikapu", "Raindrops Keep Fallin' On My Head", "Tequila", "Corazon De Melon" and "Everybody Needs Somebody To Love".