In Tokyo 1990,
Mochy -the leader of UA in first era- and his friends made the idea that it should be interesting if putting 100 of ukulele players on one stage to play like a big orchestra. He had been inspired from some local amateur choir groups in all over Japan, that each there 100 of people gathered to sing "Beethoven Symphony No.9" only for the events on New Year's Eve.

As a beginning, they planned to make a happening on the street by sudden "Guerrilla Performance". On their flyers they made the announcement of raising the members, and distributed to the places where many music-lovers might attend -musical shops, record shops, live houses, hands to hands, etc.

On December in Harajuku shopping street, about 30 uku players were joined for the first time of meeting. Anybody didn't know what they were going to play until reaching the place. "Twist & Shout" was played and sung with the very simple C-F-G 3 codes only. That was the start of UKULELE AFTERNOON.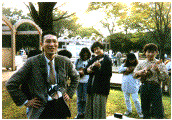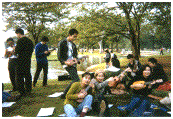 Since then, UA had held "opened" rehearsals at some parks once every month whenever any players could newly join.

UA originally arranged the world's popular songs to the scores for their uku ensemble - Burt Bacharach's "Raindrops Keep Fallin' On My Head", The Blues Brothers' "Everybody Needs Somebody To Love", Hawaiian standard "Waikapu", Dr.John's "Iko Iko", etc.